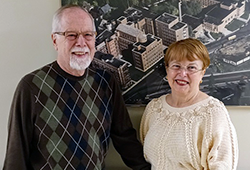 SACRED HEARTS - When Bruce Walker left the Army, he wasn't sure what his next move would be. During Bruce's welcome-home party, his father handed him a job application for Sacred Heart Hospital. Bruce, a licensed practical nurse, followed his dad's advice and soon was hired at Sacred Heart.
Turns out father knows best! During Bruce's employee orientation in February of 1970, he met his future wife, Rayna Lee. Thus began their hospital romance - Rayna Lee, a phlebotomist and Bruce, an LPN in intensive care.
Bruce enrolled in the Sacred Heart School of Nursing, which ended up being the last graduating class for the program. As a complement to one of the happiest days of their lives together, he received the results of his state board exams on their wedding day - June 2, 1973.
Bruce and Rayna Lee's careers at Sacred Heart spanned nearly 42 years, until they retired in 2011. Both say they could write an interesting book about their experiences. While Rayna Lee was at a car repair shop one day, a woman recognized her from quite some time ago as the phlebotomist for her son's blood draw. It was a pleasant surprise as the mother expressed her heartfelt appreciation for the care Rayna Lee provided to make it a good experience for her young son.
A special memory for Bruce from a wide-ranging career in ICU, open heart surgery, heart transplant, surgical order office and neurosurgery, is of a sweet patient (a writer in her 80's) undergoing a deep brain surgery to address tremors in her hands. Conscious during the procedure when the tremors stopped, she enthusiastically exclaimed, "I can go back to work!" There wasn't a dry eye in the room.
With their long history at Providence, it was only natural that Bruce and Rayna Lee looked to Providence Inland Northwest Foundation when it came time to revisit their estate plans. "We'd known about the foundation for years," says Rayna Lee. They both had seen the benefits of the foundation firsthand in their day-to-day work at the hospital.
A LASTING IMPACT - After thoughtful consideration and research, the Walkers decided to leave a portion of their estate to the Multiple Sclerosis Center at Providence Holy Family Hospital, the region's only comprehensive MS center. Multiple sclerosis is a chronic disease of the central nervous system that affects the brain and spinal cord. For reasons that remain a mystery, the Inland Northwest has one of the highest concentrations of MS in the world.
"MS had been a part of my life since high school," shares Rayna Lee. She grew up in Odessa, Wash., where she knew several people with the disease. "I toured the Holy Family center and was impressed." And because Bruce was profoundly touched by the patients he cared for; it is a cause he was equally enthusiastic about.
The Walkers encourage anyone considering a planned gift to do their homework and follow their passion. "There are many ways to make a difference and for us, a planned gift made perfect sense," Rayna Lee says.
Speaking of a lasting impact, the Walkers will celebrate their 50th wedding anniversary this June. Congratulations Bruce and Rayna Lee and thank you for your generosity!